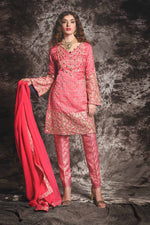 Pakistani dresses keeps evolving with trends changing as we speak. From a vast array of bold colors to statement sleeves, the traditional staple Pakistani shalwar kameez has been modified into a number of elegant and stylish dress designs. It's all about attention to detail this year, with dresses designed and embellished to sheer perfection. Let's take a look at some of the latest trends in Pakistani fashion that you should be nailing this season.
Statement sleeves for days
Inspired by vintage themed pieces, a Pakistani fashion trend that's here to stay this year is statement sleeves. Be it ruffles, dreamy flair, bell or poof designs, these sleeves can be incorporated into your kameez or sari blouse. Not only is it easy to wear, it's comfortable and chic too.
The rise of the culottes
Culottes are the perfect staple pants with regard to Pakistani fashion trends this year. Culottes can best be worn when paired up with a loose shirt, kurta or embellished frock. The choice is all yours, giving you a variety of different looks. The best part of this trend is that you can incorporate them in formal, semi-formal or even casual everyday looks.
Culottes with embroidered designs are also set to be a common hit amongst the crowd. What's not to love when you have a trend that combines the drama of a full length skirt with that of comfortable pajamas?
Cinched waist tops are here to stay
Another trend that has managed to make a mark on the Pakistani fashion platform is cinched waist tops. These are basically shirts that are fitted to one's perfection using a belt on the waist. The belts this season are different in the sense that they're elegant and give a modest yet chic look. The belts used are thinner and embellished to perfection using ornaments. It's the ultimate way to add that power punch and oomph to your wardrobe, not to mention the best way to show off long hours spent at the gym.
Matching separates have made their mark
With Pakistani fashion trends taking a distinctive turn this 2017, one trend that's here to stay is matching separates. Great emphasis has been placed upon street wear and comfort, keeping the traditional shalwar kameez designs toned down to minimalistic perfection. Blacks, whites, rose pinks and beiges are the ideal hues to aim for when opting to carry out the matching separates look to sheer perfection.
Asymmetric cuts for that stylish appeal
Pakistani dress fashion has revolutionized cuts like no other. From a simple and straight kameez to long flowy frocks, eastern wear is all about cuts. This year, go out of the box with your shirt designs and opt for asymmetric cuts for that stylish appeal. Be it formal wear or casual too, asymmetric cuts can be paired with the perfect pair of trousers, tulip shalwars and bell bottoms too. Another trending way of sporting asymmetric cuts is aiming to get that asymmetric crepe wrap top.
Faux pearl embellishment is the ultimate glam element
In case you're searching for ways to take your eastern wear to a whole new level, embellishments using pearl sequins are just the way to do it this year. Be it straight pants, culottes or just plain old sleeves, adding an element of pearl can add wonders to any formal outfit.