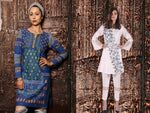 With the ever changing trends in the Pakistani fashion industry, looking your best is more important than ever. The Kurti or Tunic is considered as a staple when it comes to fashion in the South East Asian culture. It's all about comfort, style and looking your best. Tunics come in a variety of designs, cuts and colors. A typical tunic comprises of fitted shoulders, sleeves and bust. The tunic works to create a column like effect when worn. It is also tapered towards your body length so as to give the silhouette a cylindrical effect.
A tunic is thought of by many as a popular ensemble to be worn at a number of different occasions. The intricate details and variety of materials used for its fabrication is what makes a tunic so special. This includes unique embroidery, sequins and printed patterns.
To help you look your best this season, we've enlisted the latest styles in tunic fashion wear that are surely worth a try.
Formal Organza Tunic with Black Jasmine Floral Embroidery
Its wedding season all year round and choosing what to wear can be a daunting task for many fashionable ladies out there. This formal tunic is the perfect example of what you can wear to any wedding, engagement or formal event. The tunic is made out of organza which is a fabric that never gets out of style. To add the perfect touch of detail, the tunic contains jet black colored embroidery that resembles the renowned jasmine flower. You can pair this tunic with the perfect pair of trousers containing tie up detail to get that stylish look.
Classic Black and White Tunic with Threadwork and Mirror Design
Comfort and style is what makes tunics so popular and this design is just what a tunic is all about. The top comes in a classic black and white color combination with leaf threadwork. The tunic is embellished with the traditional Pakistani culture mirror design, just to add that unique traditional touch to a modern day tunic. To complete the look into a fashionable outfit, you can pair this tunic with jeans or plain white cotton trousers and you are good to go.
Simple yet Chic Printed Silk Tunics
Be it birthdays or annual dinners, silk tunics are a must for any occasion. They're sleek silhouette, luxury design and comfortable style allows you to spend hours in them while looking your absolute best. The tunics are embellished with the perfect digital floral print and can be taken a step further with the addition of beautifully colored stone buttons. As far as color is concerned, you can opt for hues in green, blue and peach. When these tunics are paired with a pair of classic cigarette style pants or flared palazzo pants, a redefined and chic look is what you can expect to achieve.
Intricately Sequined Cotton Tunic
When opting for a more toned down yet classy look, cotton tunics are the way to go. These tunics come with a beautifully sequined neckline to add that splash of style. For the color palette, you can go for neutral and soothing shades such as pinks, beige and grey. One of the best parts about these tunics is that they're available in an asymmetrical design. You can pair these beauties with a long skirt, Patiala shalwar or Palazzo pants to create the ultimate comfort and style statement.
Lightly Embroidered Casual Cotton Tunic
Tunics don't always have to be over the top. These lightly embroidered casual cotton tunics are the perfect example of a more subtle fashion creation. The cotton tunics contain just the right amount of embroidery on the front and are created in a slight baggy style for ultimate comfort. They come in an array of complementary colors such as maroon, khaki green, light blue and beige. You can pair them with loose cotton trousers or bell bottoms to achieve the perfect blend.
Minimalistic Elegant Black Georgette Tunic
Let's face it ladies, black is a color that never seems to fade out. It not only makes you look slender, it gives you just the right amount of style and grace. This sleek and sexy black georgette tunic is a must have in any wardrobe. It can be paired with baggy trousers, straight pants or even tulip shalwars. The best part being is that you can accessorize it with a gold statement necklace for a more formal appeal or tone it down with a pair of jeans for a more casual look.
Multicolored Funky Tribal Pattern Designed Tunic
It's the season to experiment and what better way to celebrate in style than by incorporating this multicolored funky tribal pattern tunic into your everyday look. The tunic utilizes a blend of colors ranging from hot pink and purple to specks of black and green. The unique yet fascinating tribal pattern is sure to give you a look that stands far above the rest.
A-Line Design Orchid Embroidered Tunic
A white tunic with intricate multicolored orchid designed embroidery is a fabulous staple for afternoon events. The tunic comes in the ever popular A-line design and can be paired with trendy black sharara pants for the hottest formal look of this season.
We are confident that you also love these Saiqa Majeed's exclusives. Grab your favorite ones on fabulous discounted rates here.