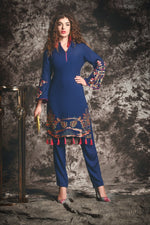 A new year symbolizes a new beginning. As we step into 2018, the world of fashion keeps getting bigger and better with trending style statements upon us all. When it comes to ethnic wear, nothing can beat the traditional staple apparel called shalwar kameez.
Known as the most elegant form of women's wear in South East Asia –the shalwar kameez has gone through multiple revolutions over the years. We've seen an array of gorgeous designs; versatile cuts and intricate embroidery embrace this fashionable attire.
Shalwar suits have a rich cultural history that date back to ages ago. They always have been taken as a popular fashion statement for the Sub-Continent natives. The trend soon spread to other parts of the region. And today, it is popular for all the right reasons.
Today, designers have managed to incorporate a modern touch into this classic design. The end result is an inspiring dress with just the perfect attention to detail. To help you stay updated with the latest in ethnic fashion, we enlist the top shalwar kameez trends for 2018. Let's take a look.
In the South East Asian culture, it's always wedding season. Choosing what to wear is a difficult task, let alone staying updated with the latest trends. This year has brought the traditional shalwar kameez with a new dimension.
It's the season for embroidery and what better way to adorn a formal outfit than with some innovative designs. This year's collections are fashioned in smart fit styles with gorgeous embroidered shirts. The shirts are made of fabrics such as silk, chiffon and georgette. Pair these shirts with net duputtas and bottoms made of multi-pleat shalwars for a slaying style.
Other leading trends in formal wear include shalwars paired with knee length peplum frocks, maxi style dresses or a classic Anarkali frock design. The shirts styled with side motifs or borders detailing.
A variety of threadwork is trending in season this year. It includes the famous Zari and Zardozi, Applique and Lace borders. Designers are incorporating a mix and match of these styles to make you shine at any formal event.
When it comes to casual wear, there's nothing more comfortable than a shalwar kameez. A simple and sophisticated shalwar kameez is all you require for your daily wear. Be it work, shopping or a casual dining experience, this year's casual wear looks incorporate the use of cotton or chiffon shalwar suits.
For the perfect ensemble, you can mix styles to give you the latest trend. This means pairing a plain design with a printed one. You can mix and match with contrasting hues too. A print kurta with a plain shalwar or a plain kurta with a printed shalwar is the ultimate combination. The choice is all yours.
Add a touch of diversity by pairing your shalwars with crop design frocks, angarkha shirts and embroidered kurtas. Just remember to keep it simple and comfortable yet stylish. A casual top, loose style shalwar and light fabric duputta is all you need.
Traditional Punjabi Wear
The real charm of a shalwar kameez portrays by going back to its roots. This means saying hello to the Desi Punjabi style. This year is about revamping classics such as the traditional Patiala shalwar suits.
A collection of bright and sharp hues, baggy style shalwars and short length shirts have seen a comeback. Detail will be given by using a touch of lace or gouta work. The unique cuts and fitting styles make it your perfect pick for any auspicious occasion such as Eid, Diwali or a Dholak.
From leading bridal houses to the shops of famous designers, 2018 calls for some serious pointers when it comes to exclusive shalwar suit designs. Most brands have envisioned the year to be full of apparel comprising of chic traditional wear blend with a touch of western influence.
Some great examples include Palazzo suits, Tulip Shalwars, Gharara pants, Jacket style dresses, Floor length Anarkali gowns, Multi-layer suits, Short Kurti and tunics, Asymmetrical frocks, Maxi style shirts paired with pants as well as dresses with straight cuts in the middle.
2018 has brought with it a set of versatile fashion trends that are sure to make a buzz. It's all about being sleek, glamorous and taking on a modern approach to the traditional shalwar kameez.