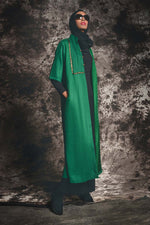 As the year 2017 comes to a close, it's the time to get into the holiday spirit with shopping sprees galore. With deals and discounts flaunting left and right, Saiqamajeed.com is the place to be. The annual holiday sale is surely worth a glance.
The designer's website is home to the trendiest styles and most fashionable ethnic wear today. Their holiday sale includes mega discounts on Pakistani dresses, lengha suits, shalwar kameez and Indian Bridal wear.
What better way of celebrating the holiday season than with a great shopping website, a good cup of coffee and the comfort of your home. To top it off, this year end sale is at a whopping half price rack.
From formal wear to semi-formal dresses, these outfits are your perfect pick for bridal wear, wedding season or as a holiday present. Ladies get your clicking fingers ready as you grab the hottest in ethnic fashion wear today.
Indian Bridal Wear –Shop Your Heart Out for the Last-Minute Weddings
As the winter holiday season approaches us all, this time of year is all about the glitz and glamour related to the wedding fever. Not all of us are blessed with months of planning before the wedding. With events occurring in a rush, there's hardly any time for the bride to think of her dress. Bridal designers also take at least 3 to 9 months in advance for their dress delivery.
In these situations, Saiqamajeed.com is your ultimate saving grace when it comes to bridal suits. Their Indian Bridal Wear collection is currently available at half the price for the holiday sale. Designed in the most intricate manner, their White Lace Dress is a treat for the eyes. It comes in layered sheers of white perfection and would make any bride feel glamorous.
There are also some great lengha suits available on the half price rack. The Saiqa Majeed's exclusive Cream Lengha comprises of an elegant lace skirt design and beautifully sequined top. It's a mesmerizing vision that combines the attributes of class and trending beauty.
The Kainat Dress as from the sound of its name is perfect for any occasion, especially as a bridal. It comes as a stunning piece of clothing in the shade of grey. The dress contains dabka work on the front of the shirt as well as the duputta. It is all in all an elegant and stylish piece for the winter wedding season.
 With so many holiday parties and events going on, it's difficult to find trendy and fashionable ethnic formal wear. Saiqamajeed.com has put all our worries to rest with a range of their formal wear. Let's not forget to mention that it's available on their half price rack.
The Orchid Trail Sharara is the perfect example of what we are referring to. It comes in the shade of a gorgeous aqua mint as well as soft rayon duck egg floral. The top comprises of a simple yet chic cotton chiken fabric that is embroidered to perfection. the trail design of the sharara adds a modern twist to a classic formal wear suit.
The Orchid Neha Sharara is an outfit fit for royalty. It can be worn at both formal and semi-formal occasions. It's trendy sharara trousers and complementary floral embroidery in black and white is what makes it a star piece. The black duputta is embellished with pom poms for some added fun.
At just half the price, ladies the Zuni Suit and Jasmine Organza are the ultimate bargain when it comes to Pakistani dresses. The Zuni Suit is a classic in chiffon pink with matching duputta and trousers. The Jasmine Organza is bound to make heads turn with its jacquard suit and black embroidery. The trousers come with a tie up detail and organza insert for the perfect touch.
Stylish Jacket Suits –Shalwar Kameez with a Twist
One of the biggest trends in this season's ethnic fashion is the jacket. It's ideal for any formal event. There are several jacket suits available for grabs at the half price rack. The Bouquet Jacket is another fabulous example of their ethnic formal wear. The jacket is delicately embellished with pretty sequins and a sleeveless cotton slip. It comes with a beautiful pair of matching white trousers. The outfit can be worn with grace to an event such as an engagement or day time wedding.
Other than that, the Block Jacket Suit and Bird Jacket Suit are popular favorites. The Block Jacket Suit comes paired with black embroidered trousers and an elegant block printed jacket in black and white. On the other hand, the Bird Jacket Suit is an embroidered dream with leaves, flowers and birds on the front and back of the jacket. The dress comes in a classic lilac shade with matching trousers.
The Roman Dress is fit for a Goddess. It's the type of formal wear every girl dreams of in hues of tea pink and blue. The long chiffon jacket with its pink threadwork and floral embroidery comes with a sleeveless slip and matching trousers.
There's nothing like a traditional design with a modern trend and this Hannah Jacket Suit is everything a girl has ever wanted. The stunning outfit comes with a jacket adorn in a mirror patti, slip and stylish trousers. If that's not your cup of tea, then how about this Liberty 4 outfit, complete with an aqua green chiffon jacket, slip and trousers. The silver bead lines, criss cross pattern and unique intricate embroidery is what separates this outfit from the rest.
Bottom Line
After having a truly high-end brand in Eastern ethnical wear in London, Saiqa Majeed now has a website that matches the elite levels of online fashion. With the half price rack, overspending will be a true hazard this season.