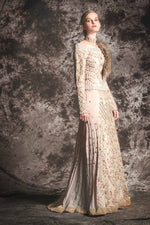 No desi wedding is complete without a Lengha suit: a traditional eastern embellished full length skirt with silhouettes that hug the waist and effortlessly drape your lower body to give an ethereal princess look.
A Lengha suit can be paired with a shirt of just about any length. Elegant, ethnic, and regal, it's a must for a desi wedding party.
In the fashion world, new trends are introduced every wedding season. This year we witnessed an extensive variety of designs and style tips that took the fashion world by storm. Let's walk through them.
Blouse Extravaganza
This year we witnessed an array of blouse options in multiple fabrics that can be paired with a Lengha. choli is a traditional piece which pairs a Lengha with a short crop top of sorts called a choli. Sultry, edgy, and glamorous, choli blouses were a big hit at dholki and mehndi parties this year and for all the right reasons. Wear them plain whilst pairing them with an embroidered and embellished Lengha or embellished with crystals, threadwork, mirror work, or beads paired with a rather simple and plain Lengha. Full sleeve short blouses or high neck jacket style blouse designs grabbed all the attention with year. All that you must keep in mind is to maintain balance.
Simply Print
Who says Lengha suits can only be worn at formal settings? Lenghas are so versatile; they can be worn whenever; formally or casually. Print Lenghas have been all the rage this season. Depending on the kind of fabric you opt for, you can create a casual day time look or something more glamorous, flashy and appropriate for night time party wear. Pair them with a plain shirt or contrasting print and create your own statement look.
Statement Sleeves
Sleeves made quite the debut in 2017. Whether it is the traditional fitted and elegant chooridaar sleeve, something more along the lines of the contemporary flared bell sleeve, sleeves are a unique and beautiful way to take your outfit from basic to runway ready in no time. Embellished statement sleeves were a particular favorite at wedding parties as they were bold, edgy, and simply stunning. 
Jacket Chic
Jackets are versatile and classy. They can take a look from basic to badass in a matter of minutes. When paired with jackets, Lengha suits look like something straight off of a runway. A jacket when worn with a Lengha can be paired with a crop top inner shirt or a knee length shirt. Edgy, statement, bold, yet modest, a jacket will keep you warm all the while making you look like a modern day queen. 
Odhani and Shawls
Odhanis are essentially wraps that drape your shoulder creating a gorgeous silhouette that is very traditional, modest, yet glamorous. An odhani can be both formal and casual. For casual setting, a plain or embroidered odhani is the way to go.
For more formal settings, you can go all out. From silks and velvets to embellishments and intricate detailing, there is an extensive variety of designs, styles, and envisioned ideas that can be brought to life and worn with a Lengha suit. If you are already carrying a dupatta, carry a second drape in the form of an odhani that can be loosely draped across your top. 
Mughal Inspiration
Lengha suits
are traditional wear. The Mughals were particularly fond of donning these extravagant skirts one, because they were modest and two because they were a sight for sore eyes. Silks and velvets were an essential part of Mughal culture so Mughal insured pieces translate that culture on to the designs. Heavy applique embellishments, intricate threadwork, crystals, beads, and sequins, all laid out over a regal color palette comprising of mainly deep ruby red, emerald green, and deep sapphire blue; Mughal inspired designs make you look and feel like an absolute maharani. 
Accessorize
If you are not accessorizing, are you even desi? At Asian weddings, you have the liberty to go all out. Think: chunky earring, statement necklaces, bling headpieces, and loads of bangles.
 A Lengha suit calls for some statement high heels. If however you cannot walk like a normal person in heels, however, another fantastic option is the traditional khussa. Embroidered, plain, or embellished, a khussa will keep your feet warm whilst looking super cute.
Lengha suits are a common finding in every almost desi girl's closet. Be it for formal wear or casual wear, there is a certain spark and excitement that comes with a Lengha. Own this upcoming shaadi season by slaying in your Lengha suit.