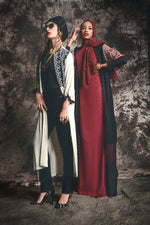 Abayas and Abaya Dresses symbolize modesty. Originating from the east of Arab peninsula and now donned by Muslim women all across the globe, the abaya is a full length robe worn over regular clothing. Over the years, the abaya has evolved into something more than just your average piece of layer clothing.
Versatile, chic, and effortless, abayas and abaya dress now come in a variety of designs and cuts that allow it be more fashion forward yet still culturally authentic. Designers such as Dior, Blumarine, and Dolce & Gabbana were some of first few labels to give abayas and abaya dresses the recognition they deserve and since then, abayas and abaya dresses have dominated the runways of fashion week.
The fashion designers have raised the bar by giving more attention towards designs, fabrics, and style. The traditional burqas have now been extensively elaborated with cuts, embroidery, lace, and maxi styles. This oversized piece of layering is now become a fashion-statement in Muslim women's clothing across the globe.
The Most Trending Abaya Dress Styles and Designs by Saiqa Majeed
Kaftan
Loose, flared, and paired with baggy sleeves, a kaftan abaya dress is the perfect choice for women who work or race against the clock on most days because it is literally something you just have to throw on and head out.
Dubai Neutrals
The perfect representation of the glamorous life of Dubai, this abaya dress comes with intricate embellishments and statement cuts, especially the sleeves. Made mostly in black and fabric such as crepe, silk, or chiffon, these definitely fall on the more formal end of the spectrum.
Butterfly Celebrity
Somewhat similar to the kaftan abaya dress but slightly more contemporary in terms of approach, this design is more suited for party wear.
Wedding Glory
Unlike regular abaya dresses, these go with the celebratory theme and come in bold, bright colors and heavy embellishments, crystals, and embroidery to make sure you shimmer and shine throughout the night.
Party Maxis
A true representation of contemporary fashion, the party maxi dress abayas are everything but traditional. Hip, mod, and chic, these are vibrantly hued and vividly patterned.
Cape Style
Perfect for the winter time, this layered number will keep you warm and make sure you look bang on trend.
Coat Grandeur
Perfect for winter as well as work, this abaya dress is classy and sophisticated and allows you to transition into the cold winter months with ease.
Majestic Frock Maxi
Trendy and hip, the frock abaya dress is the definition of mod chic.
Lace Net Splendor
This abaya dress comes with lace draped over regular fabric to create a design that is just as unique as it is ethereal and regal.
Pakistani Embroidered
A wide range of designs, this style offers everything from embroidery and embellishments to fashionable cuts and fabric variety.
White Sophistication
When anyone thinks abaya, the only color that comes into mind is black. White abaya dresses are classy, unique, and the definition of sophistication.
Belt Capes
A long layered cape made in fabrics such as chiffon and embellished with embroidered bunches, this design drapes your physique effortlessly to give that mod chic look.
Vivacious Velvet
For the latest season trend, the open abaya dress style has been really catching everyone's eye. The most recent innovation in the world of abaya fashion has been the advent of velvet abayas. Wear them plain, embellished, or paired with a statement hijab, they are the definition of regal sophistication.
Gray Galore
Apart from black, unconventional colors such as gray have been introduced on the runways along with new styles of detailing such as pleats and ruffles.
SAIQA is your one stop solution if you are in search of creative abaya designs that are classy, modest, and form fitting. Manufactured with fabric that will keep you warm and comfortable without being too overbearing or thick, at SAIQA, there is something for everyone.
The Saiqa Majeed's exclusive abaya dresses designs are a perfect marriage of style and tradition as they all come with a unique aspect to them. Specifically designed to make you look like a goddess, these designs are perfect for both formal as well as casual wear. The maxi dress abaya is a signature design by SAIQA and it is the perfect choice for many including working women, mothers, etc.
When it comes to quality, we can guarantee excellent results that will leave you awestruck. Take a look at some of SAIQA's signature pieces that are modern, stylish, comfortable, and excellent in terms of quality whilst being traditionally authentic.
An abaya does not ever have to be boring. Find your perfect match and flaunt away.