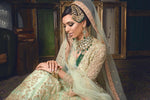 Just as the fall hits the aura with its frizzy cool breeze, the Pakistani wedding season starts with full swing. Pakistani weddings are a lavish affair, to say the least. The celebration involves a rather extensive lineup of traditional wedding festivities. Whether it is an intimate dholki in the house with just close friends and family, a fun-filled mehendi, a grand baraat extraordinaire, or a sophisticated reception party/valima, every event calls for an outfit fit for a queen; it is her wedding day, she deserves to have to her moment.
When it comes to Pakistani wedding dresses, subtlety is an attribute not many amongst us desis possess. We believe in going all out when it comes to just about everything. Famous for their unique cuts, vibrant hues, intricate details, and striking overall look, desi bridal lehengas and ghararas/Shararas are nothing short of a spectacle.
Let's take a look at some of the latest trends in Pakistani wedding dresses fashion that has been dominating the runways as of 2017.
Peplum Galore
If you have been living under a rock, let us introduce you to the most recent clothing cut trend that has been sweeping everyone off of their feet. Meet the peplum: a short, free flowing tunic that hugs the upper body yet cascades effortlessly from the waist down to create a stunning a-line silhouette. 2017 has been all about the peplum. The desi peplum is a unique blend of tradition and contemporary fashion. Drawing inspiration from the original Italian cut and infusing a hint of the cultural frocks, the desi peplum is a perfect blend of elegance and class.
The Return of the Gharara
Ghararas are a signature style of pants that date back ages. Fatima Jinnah, a Pakistani icon, was particularly fond of them as they formed a part of her signature look. For the longest time, ghararas were always a garment associated with formal attire. As of 2017, however, ghararas have officially made a comeback and it is bigger and better than ever before.
Velvet Royalty
Velvet symbolizes luxury and royalty. 2017 was the revival of velvet in the form of formal dresses and shawls. Embellished with intricate adornments, velvet makes for a stunningly regal and breathtaking bridal look. The latest trends focused primarily on deep, rich, delicious colors such as crimson, emerald, and aqua.
Embellished Shawl Sophistication
A trend well loved by minimalists, 2017 brought with it the latest trend of embellished shawls and dupattas. Available in a variety of materials ranging from chiffon, silk, and velvet, these are paired with simpler outfits to make sure the shawl stands out in the entire look. Elegant, regal, and classic, shawls have made a comeback.
Pastels and Muted Monotones
As much as we desis love our reds and greens, the recent trends are gravitating more towards the more muted and pastel color spectrum such as whites, pastel pinks, mauves, baby blues, and mint greens. This color selection has brought a very refreshing look to the otherwise rather monotonous color palette that Pakistani bridal dresses have been very famously associated with. Often paired with hints of bright colors incorporated in details, this pastel color palette makes for an ethereal bridal look.
2017 is the year that brought major twists in Pakistani wedding suits and bridal lehenga trends. Make sure to say yes to the right dress by finding your perfect match.