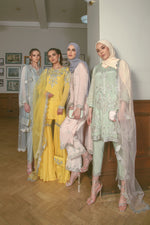 Garden weddings are inspired by fashion! Brides, take notice of all the cool ways you can celebrate; green centerpieces, flower bows, hanging flowers, and an elegant outfit to go with the decor and surroundings.   Saiqa Majeed; is a world-class, high-end luxury clothing retailer that specializes in fine clothing. Our clothes define & embody solid craftsmanship, elegance, time and dedication.    At Saiqa Majeed, we carry our brand name and image with class and represent the true beauty of Asian clothing and embroidery. Besides, we work closely with our customers to ensure that their requirements are a standard of...
---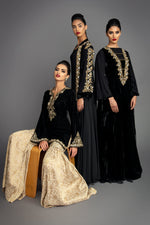 Presenting the Velvet Collection: At Saiqa Majeed our exquisite Velvet Collection brings the perfect fit for your winter wardrobe. We are all au courant with the amount of glam and decency that comes with velvet clothing. Be it those fun, graceful winter weddings or casuals dinners, one can always rely on her favourite velvet formal outfit, to wear it to-well, almost everywhere! Dating from the ancient Mughal tradition and channelling its way into the contemporary fashion era, velvet pieces has always remained at the top of the list. But where to find your out-and-out fit? Don't fear. We have got...
---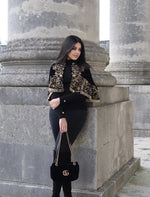 The Julia Cape: A Timeless Piece During these cold months looking stylish can be quite challenging and layering is essential for ultimate comfort, but also can be quite strenuous when you want to look fashion-forward. Therefore, this classic piece is an essential for your winter wardrobe. The Julia Cape brings style and comfort, keeping you warm during the wintery days. The luxurious black makes the cape a versatile layering staple as it can be worn over almost every colour in your wardrobe. Moreover, the gold details brings the cape that accent of elegant and rich appearance. How to style this...