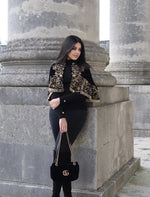 The Julia Cape: A Timeless Piece
During these cold months looking stylish can be quite challenging and layering is essential for ultimate comfort, but also can be quite strenuous when you want to look fashion-forward. Therefore, this classic piece is an essential for your winter wardrobe. The Julia Cape brings style and comfort, keeping you warm during the wintery days. The luxurious black makes the cape a versatile layering staple as it can be worn over almost every colour in your wardrobe. Moreover, the gold details brings the cape that accent of elegant and rich appearance.
How to style this classic festive outfit
You can decide whether you would want to wear this gorgeous Julia Cape on a casual day or to a special event.
1. If you have decided to wear this on a casual day maybe a day out in London or to your favourite restaurant, here is the styling tips you'll need to look like the fashion icon you are!
.You will need to grab your pair of black jeans (preferably skinny this will be to show of your gorgeous figure.) and grab a high neck black bodysuit to create a beautiful silhouette of your body shape.
. For the accessories find some gold stud earrings and a gold bracelet to give your look that upscale affect. Also get a small black bag (to upgrade your look ensure your bag has gold details on it, to create a deluxe style).
. Pair your High Knee boots with this look. High knee boots are so on trend right now and would look so flattering with the Julia Cape.
. Put over your Julia Cape and there you go! You have created a look that is so trendy and classy.
2. To wear this gorgeous Cape out to a special occasion here we have some advice for you.
. Find a pair of flared trousers preferably black (or take a look at our website we have some gold detailed flared trousers that matches perfectly with the Julia Cape.) And put on a black high neck silk top for extra elegancy.
. For accessories grab a gold chain link necklace, as they're so in style right now! And grab your dainty gold bracelet for overall class.
. Finally get your favourite pair of shiny gold or black heeled ankle boots. And put over your Julia Cape to complete this wintery, festive and fancy outfit.