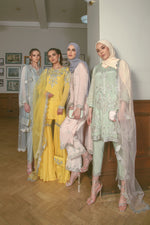 Garden weddings are inspired by fashion! Brides, take notice of all the cool ways you can celebrate; green centerpieces, flower bows, hanging flowers, and an elegant outfit to go with the decor and surroundings.
Saiqa Majeed; is a world-class, high-end luxury clothing retailer that specializes in fine clothing. Our clothes define & embody solid craftsmanship, elegance, time and dedication. 
At Saiqa Majeed, we carry our brand name and image with class and represent the true beauty of Asian clothing and embroidery. Besides, we work closely with our customers to ensure that their requirements are a standard of perfection for that perfect garden wedding reception.
Contemporary Garden Weddings
Contemporary Garden weddings have always been trendsetters and refreshing. The cool summer breeze, the warm radiance of the sun and the brightness of mother nature. Each element is an amalgam of beauty that creates memories to be cherished. In addition to this, Garden Weddings come packed with several advantageous factors that allow us to enjoy them even more. 
Moreover, we'll also be talking about how our four unique 'Jalpari' dresses match the occasion. But first, the advantages.
Picturesque Scenery
Outdoor photography is perhaps the best aspect of Garden Weddings. Not only are you surrounded by mesmerizing scenery but perfect lighting, which all good photos require. Furthermore, the natural elements of a Garden Wedding will add to a calm and tranquil state which transforms the wedding beautifully.
Natural & Free Wedding Decor
A wedding in the outdoors will be full of vividness and illumination from the flowers, the sky, the trees and even grass, hence, their natural and free decoration as it'll make the wedding bold and full of life. But there will be prices involved in the usual setup; chairs, tents, food, etc.
Kids Play Area
Kids love playing around, as we know- which is why outdoor occasions are perfect. They can run around and have more space which means less fuss and more fun. Consequently, instead of kids being cooped up in a 'Wedding Hall', the outdoors will bring out smiles and laughter, which sets a tone & mood to remember and less worrying.
Contemporary Wedding Wear: The 'Jalpari' Dresses
'Jalpari Gharara'
This bright and breathtaking yellow chiffon suit is the go-to for a wedding occasion. Let the silver lining and glass crystals gleam under the warm sun as the dress signifies the peak of luxury. This Yellow Jalpari Gharara evokes the symbolism of the sun, joy and cheerfulness, allowing you to rock your summer look.
'Jalpari Salwar'
A stunning, refreshing cool-blue tunic embellished in excellent silver-lined embroidery. This Jalpari Salwar personifies serenity, depth and peacefulness and resembles the sky, perfect for a warm summer wedding occasion.
'Jalpari Palm Suit'
This elegant and invigorating modest mint trouser suit consists of quality silver-work, sequins and nude pink silk thread work. This Jalpari Palm suit radiates cool and refreshing energy, tranquility and commitment, and like the other 'Jalpari' dresses, it's perfect for a warm summer occasion.
'Jalpari Wide Pant'
This soft subtle pink colored chiffon consists of lavish silver-lined embroidery and sequins with a finely crafted scarf. 
The Jalpari Wide Pant symbolizes and radiates the theme of affection, peace and harmony. Rocking this Jalpari dress allows you to embrace happiness and youthfulness, all ready for a warm summer wedding occasion.
Key Takeaway
Garden Wedding Receptions are great. They are mesmerizing, cost-effective, suitable for both children and photography. However, what makes Outdoor Wedding Receptions even better is the High-End Fashion Saiqa Majeed provides. Our modest wear is ideal for party wear and outdoor occasions while it retains its modesty and yet exceeds the level of luxury. 
Don't leave it too late! Shop effortlessly online with Saiqa Majeed. Please feel free to contact us with any queries you may have.